Seventh Annual Research Week at UIW (February 17 – 21, 2014) and the First Annual UIWRSO Research Poster Session (February 25, 2014)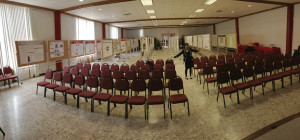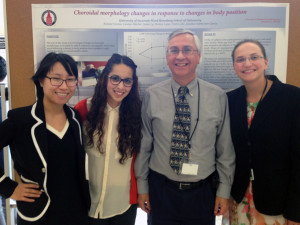 Denisse and I walked through rows and rows of 6' by  4' feet posters at the Marian Ballroom. There were also rows of chairs facing the stage were the podium stood – ready for speakers to present their research. We came early, so that we can practice presenting our research poster. It may not be a big deal to some students who had undergrad experience in research, but it was Denisse Lopez and my first time doing a research poster presentation. I'm really glad that our school offers research scholarships to students who are interested in optometric research, even if you did not have any prior experience.
We got into the Summer Fellowship Training Program (SFTP) last year and it has been such a wonderful experience. Dr. Rabin (our lovable Vision Science Professor) is also the Chair of the Research Committee. He assigned students to help with concurrent research done by staff, and/or create your own with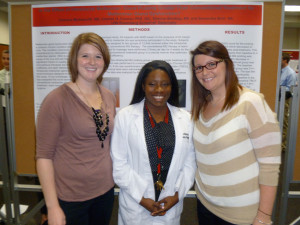 the help of your Principal Investigator (PI), who happens to be just one of many researching UIWRSO Faculty. Not only do you build rapport with your PI, but you also get to know your fellow student researcher really well. I highly recommended that an RSO first year join the research team, because it's not just a one summer program, but a whole skill set that optometry school alone does not teach you. Even after the summer program, you can choose to stay involved in your research project, and present your work in national optometric conventions such as AOA, ARVO, AAO, etc.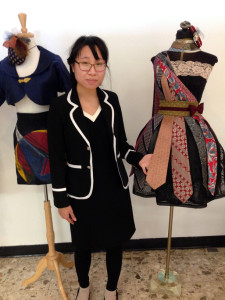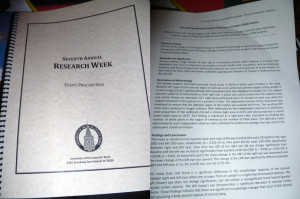 Back to the Poster session, this event was put together by the hard work of Rebecca Ohnemus, MAA, CRA, the Research Officer, of the School of Graduate Studies and Research's Office of Research Development.  What I enjoyed was the diversity of graduate programs that UIW provides, I learned a lot from just talking to the students from different disciplines. Not only were there UIW researchers and scholars from the UIW Pharmacy, optometry, and Nursing school, but there were posters from the business and administration, Math, education, and the art, media and design graduate programs. Rebecca collected abstracts and artist's statements describing their current and ongoing projects. The submissions were then collected and bound into a spiral notebook for attendees to take a copy. It was a great reference for attendees to find our abstract in the book!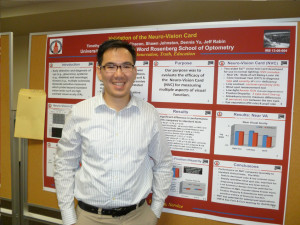 One week later, The First Annual UIWRSO Research Poster Session took place in our satellite campus, UIWRSO, Events Room 301, Tuesday, February 25th from Noon to 1pm.  Many students from RSO joined to celebrate the accomplishments of our Faculty and Intern researchers. Pizza was served, complimentary of our Dean, Dr. Buzzelli.  The posters reflect research accomplished during the Summer Fellowship Training Program as well as additional Faculty and Intern efforts.
It was thanks to the hard work of Dr. Maria Lourdes Alarcon Fortepiani, MD, PhD, our lovely, Professor at the Rosenberg School of Optometry, that this event was possible. It was a great way to let the first years know about our research experience!