Jan 17, 2014 — This year's American Optometric Association (AOA) Presidents' Council Meeting was held in San Antonio, at Bowden Eye Care & Health Center on 2547 East Commerce Street. The UIW Rosenberg School of Optometry did an amazing job hosting this event! I was blown away at how they made the Eye clinic so festive!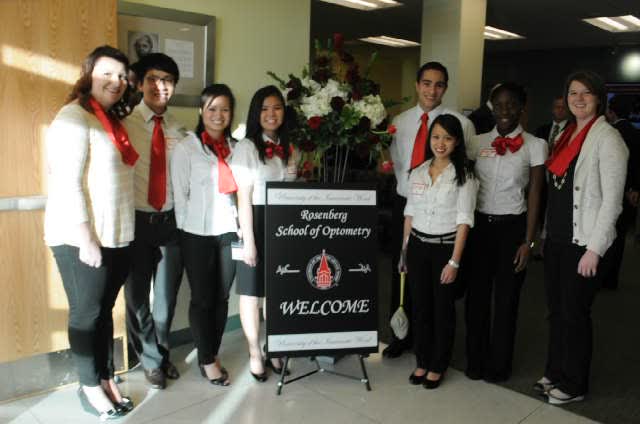 The theme of the event was "fiesta," a Latin flare blew through the building as the San Antonio all female mariachi band, Las Coronelas, danced and sang. All the state optometric leaders came in by bus around 6-7pm. RSO students in bright red scarves and ties greeted the special guests by giving a tour of the building.
The Bowden Clinic is one of RSO's newest additions – a 30,000 square-foot modern public health care facility, which serves the vision care needs of residents on the Eastside and surrounding areas. Patients are seen by licensed eye care doctors and student interns from UIWRSO.
Waiters served hors d'œuvres on the first floor; where the lobby and optical was open for the doctors to talk and mingle. Greeters may bring guests upstairs to feast on more Tex Mex food. My favorite was the cheese and bell pepper quesadillas!  When I went upstairs to take pictures, I had a great time talking to Dr. Chapman, O.D., M.S., F.A.A.O., Director of Clinics at the UIW Rosenberg School of Optometry, and he showed me all the new equipment housed at this facility.  I'm very excited to have the opportunity to work with all of the state-of-the-art equipment.
Afterwards, I had a lively chat with the state optometric leaders from Pennsylvania. Dr. Marianne E. Boltz, O.D., F.A.A.O., President of the Pennsylvania Optometric Association, was delighted to hear that I was interested in Pediatric optometry, and told me all about her active experiences in optometry school and with American Optometric Student Association (AOSA).
Just before I left, Denisse Lopez, Class of 2016 and AOSA RSO Trustee 2014-15, said "I want you to meet someone." So I went downstairs and met up Denisse and Raelyn Ottenbreit UIWRSO Trustee 2013-2014, and they introduced me to James Deom, PCO-Salus, AOSA 2013-2014 President, Devin Sasser, UMSL College of Optometry, AOSA 2014-2015 President, and Robert Foster, AOSA Executive Director. They are a charismatic group and were very attentive when I told them about my passion for COVD and my hopes of getting more involved with the AOSA!